Description
The Excellence of Copper

MULTI-LAYER ROASTING PAN
75% COPPER ~ 12.5% ALUMINUM ~ 12.5 % ST/STEEL  
2 MM THICK 
Genuine* copper pans are the loved utensils by Chefs and keen amateurs. 
Copper has the physics property to be the best heat distributor of all cookware materials, by far: it conducts heat quickly and evenly to the full body of the pan (bottom and sides).  Its high heat sensitivity will allow you to master your cooking process to reach the precise cooking results you're looking for. 
In the purest tradition, de Buyer Inocuivre is made of thick copper (1.8 mm) to fully develop that physics property. De Buyer adds a thin st/steel inner layer (0.2 mm) to avoid direct contact of salted food with copper and provide an extreme ease of clean. Inocuivre thus ensures remarkable cooking results, perfectly uniform on any cook top except for induction. 
The firmly riveted cast stainless steel handles are robust and offer a perfect grip and comfortable handling even with cooking gloves protection. The copper of Inocuivre is hand-polished, a pure marvel for the eyes with its gentle and soothing aura: a magnificent companion for the table and the kitchen.
*Note: by opposition, be aware that many brands sell non-genuine copper cookware made of thick of st/steel with an ultra thin outer layer of copper which cannot develop the same cooking properties.

Cooking tips: Inocuivre roasting pan is perfect for for oven cooking meat, roast poultry, fish, potatoes, vegetables. Its multi-layer structure is made for the pan to quickly reach the expected temperature, quickly sear and grill the meats, brown potatoes to keep juices inside, not to dry the meat and develop all its flavor potential. Inside dimensions: 35 x 25 x 8 cm
Cooktops: all EXCEPT induction
Care & Clean: Wash simply by hand: the edges are flared and the corners rounded for an easy cleaning. To let the copper shine again and easily, you can use DE BUYER copper polishing paste (see add-on).
Material components: 
Body part: multi-layer structure: outer layer made of copper (1.5 mm) + inner part made of Aluminum (0.25 mm) + outer part of the inside made of AISI 304 stainless-steel (0.25 mm)

Riveted handle: cast stainless steel

High-end mirror polishing


Made in France



Brand: de Buyer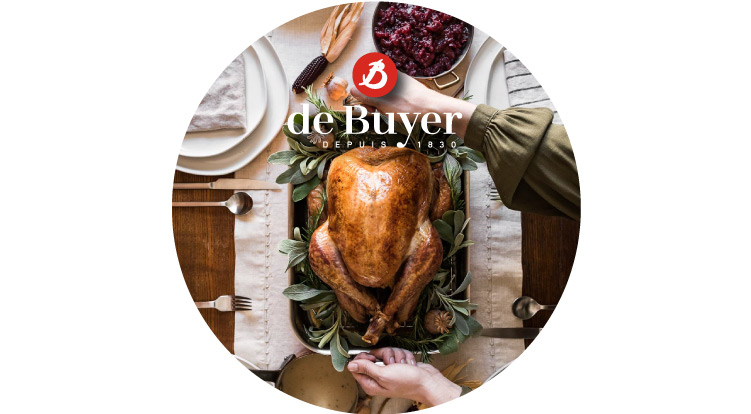 de Buyer Cookware Materials Differences